Actually banyak perkara yang terjadi tapi tak sempat nak hupdate..maklumlah diserang demam seminggu tau.. makan dan tidur tak lena.. nasib baik dapat hubby yang memahami.. kalau i tak ada selera makan dia tak jemu2 membeli apa-apa yg i rasa nak makan walaupun jam dah pukul 1.30 pagi... ada satu kali i tak dapat tidur kat rumah sebab rasa tak selesa so dia bawak i jalan2 sampai pukul 4.00 pagi.. i tidur je dalam kereta... esoknya dia nak gi kerja lagi.. kesian sungguh..
So i nak publish gambar yg dah lama dalam simpanan i sempena besday i celebrate hari tu kat Pahang.. Food sumer di organised oleh my aunt.. rajin dia masak kan?.. so lihat lah beberapa pic ni yek...
This is roses that i received at my office.. From Hubby..

Actually they plan it to be simple but turn out that a lot of dishes cooked by my aunt.. siap ada pulut kuning with rendang ayam and daging..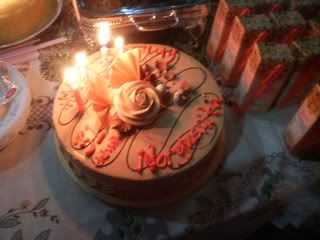 My birthday cake... Aiyooo nampak ada tiga batang lilin gemuk kat situ...